The Caddisfly, Order Trichoptera.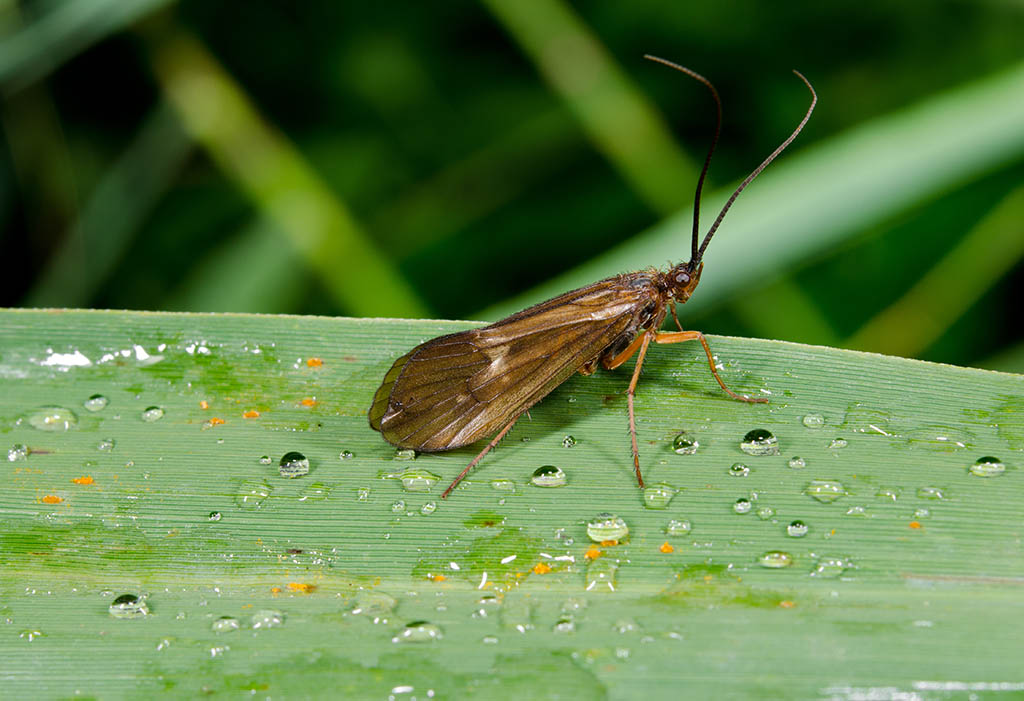 The caddisfly order is widely distributed and inhabits diverse habitats, from cold, fast mountain streams to warm stillwater. The adult insect is characterized by tent-style wings that fold over the body when not in flight, no tail or tails, and prominent antennae. The caddisfly undergoes complete metamorphosis, with its lifecycle composed of egg, larva, pupa and adult. Caddisflies are somewhat tolerant to pollution and the presence of heavy metals so their populations can be strong in waters that are completely devoid of less pollution-tolerant orders like mayflies and stoneflies.
Mature caddisflies range from tiny, around three (3) millimeters, to fairly large at nearly an inch-and-a-half or thirty-four (34) millimeters. Nearly all of a caddisfly's life is spent underwater as a larva, with most spending a year in the larval form. As it prepares for adulthood, the caddisfly seals itself in a silk, pupal cocoon and goes through metamorphosis into its final, adult form.
Most caddisfly swim or ascend with the aid of gasses accumulated in their pupal cocoon to the surface of the water, while some crawl to shallow water to hatch into their adult form and quickly fly away to mate. Some species of caddisflies hatch in huge numbers creating massive, blanket hatches and mating swarms. The Mother's Day Caddis hatch is one such event where there can be so many naturals on the water that it's nearly impossible to tempt a trout to eat an imitation. Others hatch sporadically, but among the sparsely-hatching caddisflies there are sizable species that are tempting meals to even the largest fish. Female caddisflies vary by species in their method of depositing eggs after mating. Some dap or skitter on the surface, while others dive into the water and deposit eggs on vegetation or structure.
Fishing caddisflies — matching larvae and pupae.
Fishing caddisflies — active adults.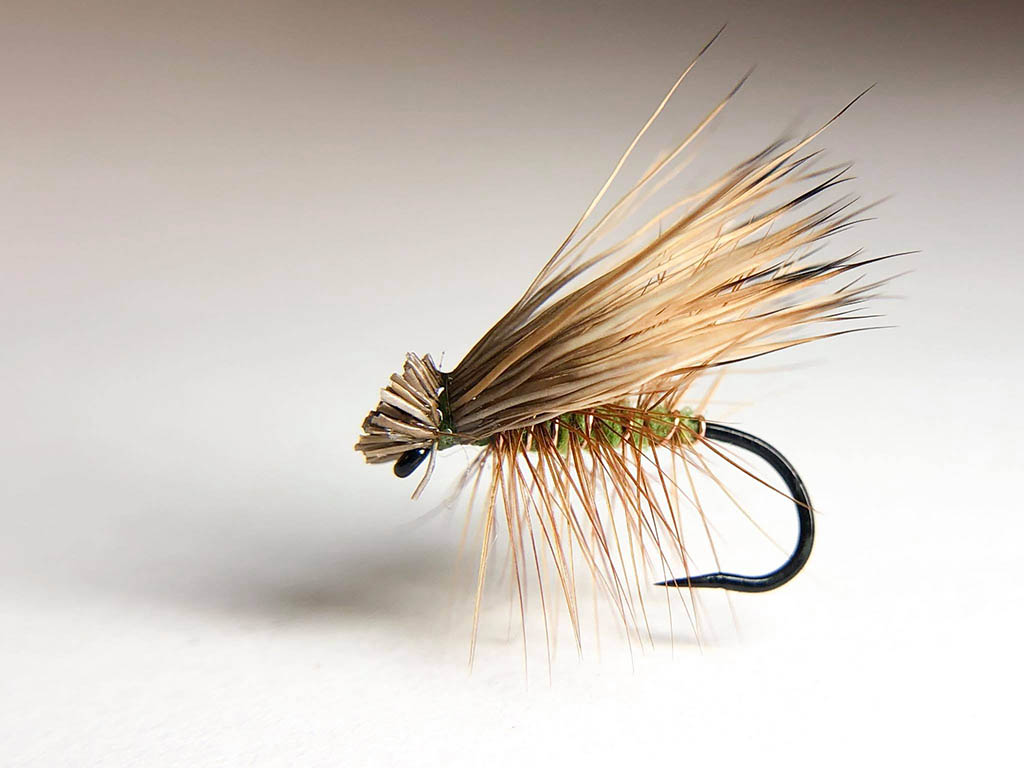 Adult caddisflies are very active when they are on the surface. You can determine that fish are feeding on caddisflies as their rise forms are anything but subtle as they pursue the fast moving insects. Splashy rises are the norm when trout are feeding on both hatching and egg-laying caddis. They skitter around with their wings flapping and make a general ruckus, which makes the Fluttering Caddis and similar patterns excellent choices for active, adult caddisfly patterns.
While fishing caddisfly adults should normally be done in a very active manner, there are times that a more sedate drift works well. However, unlike the required dead drift presentations when fishing mayflies, caddisfly drifts should normally be interrupted occasionally with short twitches, pops, skittering movements, and at times fully skating the fly.
Egg laying methods vary among species. Since some species' females lay eggs by diving into the water, drowning your dry fly at the end of a drift and swimming it with short twitches and pulls underwater can be deadly. The bottom line is to forget everything you know about fishing mayflies when you're fishing a caddis adult. Get creative with your drifts and find the level of activity and movement that the fish want.
Try searching Hatchpedia using the single keyword 'caddisflies' with the 'Use my location' and 'Use current date' options selected to see a photographic list of caddisflies that are known to hatch in your area this time of year.
When you register for a free 7-day trial you'll get full access to the Hatchpedia website. Your subscription will also give you complete access to all of the features in the iPhone and Android apps when they become available (currently in development). Our mobile apps will not require internet access so you will be able to figure out what's hatching when it matters: while you're knee deep in a remote stream way out of cell range.
Fishing caddisflies — does it get better?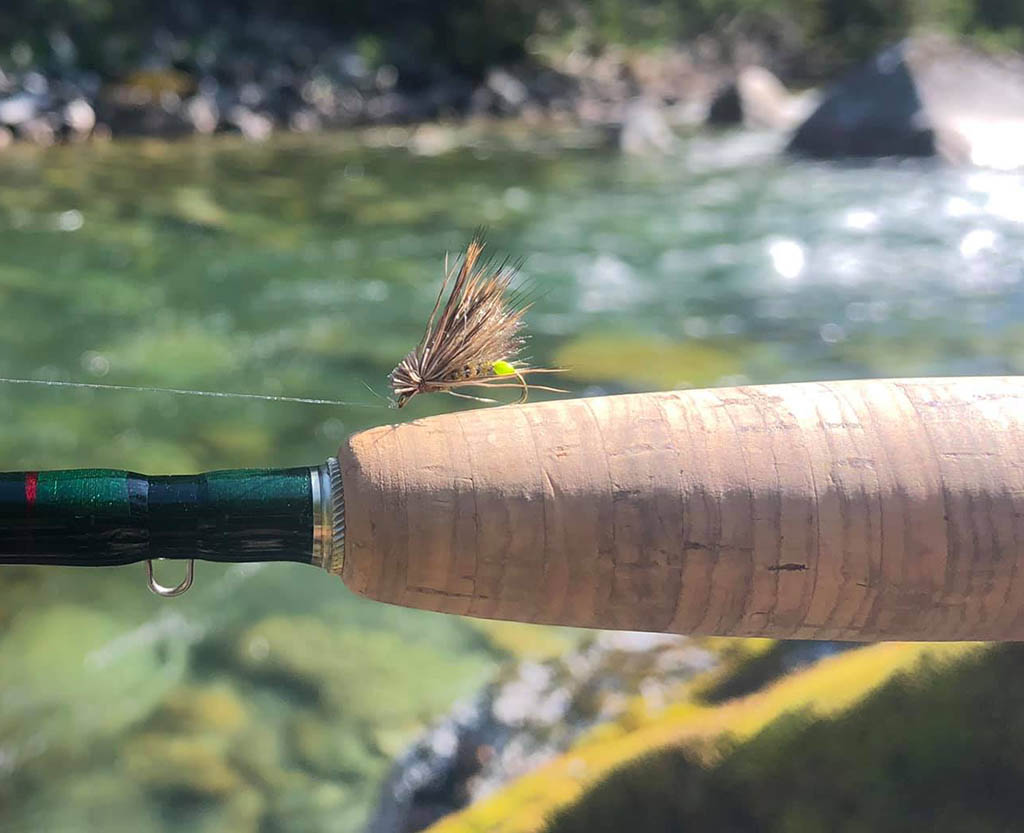 From Spring thru Fall caddisflies provide great angling opportunities. Springtime hatches like the ubiquitous Mother's Day Caddis hatches, and the big, halloween-colored Fall caddis get most of the fanfare. However, sometimes it seems that there is nothing better than fishing caddis dries on a mountain stream in the Summer. Life might be at its simplest when the fish are looking up and all you have to tie on is an Elkhair Caddis, with little twitches and skitters drawing electrifying strikes from hungry trout.
Learn more about mayflies and stoneflies.
If you'd like to easily identify the insects that you encounter on the water, register for a free 7-day trial.


Your web subscription gives you full access to our website and the iOS and Android apps!
You'll be able to use the app with no cell service or internet for two weeks so you're completely covered. Deep in the backcountry Hatchpedia will continue to help you identify insects when it matters - while you're on the water.